You are here:
Tyres >
Coker Classic Red Wall Radial Tyres
Coker Classic Red Wall Radial Tyres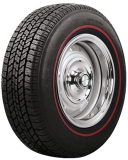 Click Image to Enlarge
No products found in this category.
Classicaly styled red wall tyre with all the advantages of a modern radial constructed tyre.
Improved ride and handling over origianal bias crossply
All season tread
NOTE: Do not mix crossply and radial tyres
(If the size you're looking for is not listed, please call 0844 879 7085 to enquire).