You are here:
Tyres >
Maxxis M983 Rubicon Oversize ATV Tyres
Maxxis M983 Rubicon Oversize ATV Tyres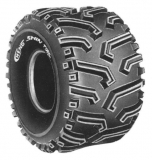 Click Image to Enlarge
Prices vary depending on size
Maxxis M983 Rubicon Tubeless Utility Tyre
Scroll down for technical information.
MAXXIS M983 TYRE | MAXXIS RUBICORN TYRE
MAXXIS M983 'RUBICORN' ATV TYRE
ALL TERRAIN TYRES | QUAD BIKE TYRES | 'OVERSIZE' TYRES
Oversize conversion tyres are for ultimate performance in arduous conditions while still using standard wheel rims. The powerful
Maxxis M983 Rubicon
gets you through the most rugged terrain you will encounter. Its wide, self cleaning hook and bar tread design offers plenty of traction and power to tackle the toughest mud and steepest hills. With a computer designed tread pattern for maximum performance and a rugged rubber compound, the Maxxis M983 Rubicon lets you take on brutal conditions and obstacles that might defeat other tyres.
FEATURES INCLUDE:
Bar and hook tread pattern delivers maximum traction in mud, snow and loose terrain
extra stiff sidewall make this one of the most puncture resistant tyres available
Designed for larger ATVs
Technical Specifications

Overall
Diameter
Width
Radial [R]
Crossply [X]
Rim Size
Ply Rating
Load Index










24.8"

11.8"
Crossply
12"
2 ply
Tube Type [TT]
Tube Less [TL]
Weight Capacity

Speed Rating
Pressure (Bar/Psi)
E Marked
Road Legal











TL
195

80 km/h
5 psi

no

no