PHONE LINE UPDATE: Some customers are experiencing issues when calling us. If this is the case, please click/tap here to email us and we'll be in touch with you as soon as possible.
You are here:
Redwing Puncture Resistant Tyres
Redwing Puncture Resistant Tyres

REDWING PUNCTURE RESISTANT TYRES
REDWING RX ARAMID TYRES | REDWING PUNCTURE PROOF TYRES
Why choose
Red

wing puncture proof tyres?

Redwing produce one of the largest ranges for puncture resistant comercial grade tyres in the UK. With its distinctive sidewall graphics, the Redwing brand offers 'big brand' tyre performance and are superb value for money.
Features include:
Class leading tyre
RX Aramid technology for superior puncture resistance
Maximum grip and minimum ground marking
Strong, robust carcass
6 ply construction for added tensile strength
Read More..

Redwing Puncture Resistant 'Multi Rib' Tyres

Prices vary depending on size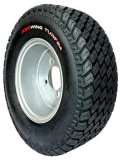 Redwing 'Turf 24' Puncture Resistant Lawncare Commercial Tyres

Prices vary depending on size

Redwing 'Traction' Puncture Resistant Mower Tyres

Prices vary depending on size