PHONE LINE UPDATE: Some customers are experiencing issues when calling us. If this is the case, please click/tap here to email us and we'll be in touch with you as soon as possible.
You are here:
Redwing Turf Tyres
Redwing Turf Tyres

REDWING TURF AND LAWN CARE TYRES
REDWING TYRES | LAWN AND GARDEN | GROUND CARE | TRACTION TYRES



Who are
Red

wing and why should I choose

Red

wing Tyres?


Redwing are a leading tyre brand in Lawn & Garden tyres. Redwing tyres are produced in high quality production plants in China. Available in the impressive "Turf24" range, the tyres are not only excellent quality, but affordable and durable. With the striking and distinctive 'Red and White' graphics transfers embossed onto the sidewall, these tyres will look good and perform just as well all year round. Redwing tyres are designed for all types of groundwork and are growing in popularity year on year.
Read More..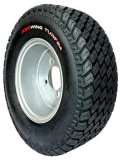 Redwing Turf 24 Lawncare Commercial Tyres

Prices vary depending on size

Redwing 'Traction' Mower Tyres

Prices vary depending on size