You are here:
Tyres >
Triangle Light Radial Front Steer
Triangle Light Radial Front Steer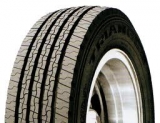 Click Image to Enlarge
Prices vary depending on size
Triangle Light Commercial Radial Front Steer Tyres
Scroll down for technical information.
TRIANGLE TRUCK STEER TYRES
TRIANGLE FRONT TYRES | TRIANGLE STEER AXLE TYRES | TRIANGLE FRONT STEER RADIAL TYRES
TRIANGLE TRA02 ALL PURPOSE TYRES | TRIANGLE TR656 STEER TYRES | TRIANGLE TR685 STEER TYRES
Triangle Tyres produce an affordable light truck radial tyre without sacrificing quality. Designed for front axles, the Triangle steer mounted range offers good wear properties to increase stability, handling and longevity of the tyre, along with inbuilt low noise technology for a much quieter ride.
Technical Specifications

Overall
Diameter

Overall
Width

Rolling
Circumference
(+/- 2.5%)

Construction
Rim Size
Ply Rating
Load Index












753 mm

205 mm

-
Radial
17.5 inches

16 ply
126/124M
Tube Type [TT]
Tube Less [TL]

Weight Capacity

(Kg / lbs)


Speed Rating

(mph - Km/h)


Pressure

(Bar/Psi)

E Marked
Road Legal











TL

1700 kg

81 mph
130 km/h
-

Yes
Yes
Fuel Efficiency

A B C D E F G

Wet Grip



A

B

C

D

E

F

G

Noise Level

(dB)

EU Tyre Category
C1: Passenger/Car
C2: Light Commercial
C3: Commercial Truck/Bus


E
B
75
C3