You are here:
Tyres >
American Classic Narrow White Wall Radial Tyres
American Classic Narrow White Wall Radial Tyres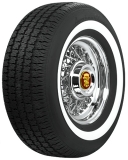 Click Image to Enlarge
Prices vary depending on size
American Classic produce a diverse range of nostalgic tyres with
sidewall detail (excluding lettering) for authentic restoration of classic and vintage vehicles on selected sizes
Scroll down for technical information.
AMERICAN CLASSIC (NARROW WHITEWALL) TYRES
NARROW WHITE WALL DETAILING

American Classic Tyres are produced in the USA for both Vintage and Classic Vehicles. With an elegant and distinctive white wall detailing, American Classic radial tyres are popular with restoration enthusiats wanting the best for their labour of love.
Features include:
Asymmetrical tread design provides optimum traction and handling performance
Low profiles available
Narrow and smooth whitewall
All season tread
DOT and ECE approved / UTQG Rating: 540 BB
Technical Specifications

Overall
Diameter
Width
White Wall
Width
Construction
Rim Size
Ply Rating
Load Index












26.0 inches
Tyre: 8.3 inches
Tread: 5.55 inches
1 inch
Radial
14 inches

95S
Tube Type [TT]
Tube Less [TL]
Weight Capacity

Speed Rating

Pressure
(Bar/Psi)
E Marked
Road Legal











TL
695 kg
1,532 lbs
113 mph
180 km/h
2.4 bar
35 psi
yes
yes