You are here:
Trelleborg T539 Turf Tyres
Trelleborg T539 Turf Tyres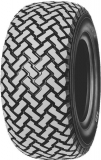 Click Image to Enlarge
Prices vary depending on size
Trelleborg T539 Soft Grip Lawn Tyres
Scroll down for technical information.
TRELLEBORG T539 SOFT GRIP TYRES
The Trelleborg T539 "Soft Grip" is a really tough and rugged tyre which will stand up to all the demands asked of it. Very popular with council grounds staff, this tyre gives exceptional wear and reliability. With its thick sidewall and deep tread, you know you won't be let down.
Technical Specifications

Overall
Diameter
Width
Rolling
Circumference
(+/- 2.5%)

Radial [R]
Crossply [X]
Rim Size
Ply Rating
Load Index












304 mm

98 mm

908 mm

Crossply
4 inch
(2.5x4 rim)

60A8
48A8

Tube Type [TT]
Tube Less [TL]
Weight
Capacity

Speed
Rating
Pressure
(Bar/Psi)
E Marked
Road Legal











TT

250 kg

40 km/h

6.0 bar

no
no