PHONE LINE UPDATE: Some customers are experiencing issues when calling us. If this is the case, please click/tap here to email us and we'll be in touch with you as soon as possible.
You are here:
Tyres >
BKT AT111 X-Drive Rear ATV Tyres
BKT AT111 X-Drive Rear ATV Tyres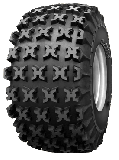 Click Image to Enlarge
Prices vary depending on size
BKT AT111 X-Drive Sports ATV Tyres
Scroll down for technical information.
BKT AT111 ATV TYRE | BKT AT111 QUAD BIKE TYRE

BKT AT111 X-DRIVE SPORT / RACING ATV (REAR)

BKT AT111 is designed for use on sport and utility models used in loose and hard packed terrains.
BKT AT111 is available in a tough 6ply rating casing which maintains the tread profile increased traction and high speed control in power slides.
BKT AT111 is compounded with a special natural racing rubber compound that delivers the traction needed without reduced tread life.
The aggressive knobs of the BKT AT111 provide excellent grip and traction in the most challenging terrains.
> Want to see other variations? Feel free to view our BKT ATV and Quad Bike tyre range here <
Technical Specifications

Overall
Diameter
Width
Radial [R]
Crossply [X]
Rim Size
Ply
Rating









508 mm

282 mm

Crossply
8 inch
6 ply
43F
Tube Type [TT]
Tube Less [TL]
Load Index
Speed Rating
Pressure (Bar/Psi)
E Marked
Road Legal











TL
155 kg
140 kg
7 psi
no
no