You are here:
Tyres >
Diamond Back White Wall Tyres
Diamond Back White Wall Tyres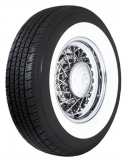 Click Image to Enlarge
Prices vary depending on size
Diamond Back 'Pre-customised' White Wall Tyres
Scroll down for technical information.
DIAMOND BACK WHITEWALL RADIAL TYRES
CLASSIC TYRES | VINTAGE TYRES | DIAMOND BACK TYRES
Diamond Back have created a customised range of whitewall tyres with radial construction to keep the authenticity of a classic design but with all the advantages of a modern car tyre: improved handling, strength and durability. Only branded tyres are used in their specialist process of vulcanising whitewall detailing to ensure quality is always maintained, including Michelin, Cooper, Federal, Nexen and Toyo tyres which are rebranded with the quality "Diamond Back" name, synonymous in the classic tyre world.
Features include:
New original branded tyres with permanent customised white wall added
All the safety of a modern radial tyre with classic look
Non-yellowing sidewall detail
Can't find the size you're looking for? Contact us with your tyre size and we'll look into it.

> Want to see other variations? Feel free to view our Diamond Back Whitewall tyre range here <
(Scroll down ▼ to view tyre pattern)
Technical Specifications

Overall
Diameter
Width
White Wall
Width
Construction
Rim Size
Ply Rating
Load Index












594 mm
23.39 inches
Tyre: 5.9 inches
Tread: 4.25 inches
2¼ inches
Radial
13 inches

82S
Tube Type [TT]
Tube Less [TL]
Weight Capacity

Speed Rating

Pressure
(Bar/Psi)
E Marked
Road Legal











TL
475 kg
1,069 lbs
113 mph
180 km/h
2.4 bar
35 psi
yes
yes