PHONE LINE UPDATE: Some customers are experiencing issues when calling us. If this is the case, please click/tap here to email us and we'll be in touch with you as soon as possible.
You are here:
Tyres >
Nankang Radial Truck Tyres
Nankang Radial Truck Tyres

NANKANG TRUCK TYRES
NANKANG BUS TYRES | NANKANG HIGHWAY TYRES | NANKANG RADIAL TYRES
The Taiwanese and Japanese manufacturer Nankang, founded in 1959, is one of the largest producers of tyres in the far eastern region. Exporting to over 100 countries worldwide, Nankang have numerous awards for quaility and design, including ISO 9001, ISO 14001 and QS 9000 international accreditations.
Read More..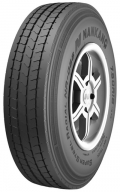 Nankang Radial Highway NR066 Light Truck Tyres

Prices vary depending on size