PHONE LINE UPDATE: Some customers are experiencing issues when calling us. If this is the case, please click/tap here to email us and we'll be in touch with you as soon as possible.
You are here:
Tyres >
Waymaster 'Thirty' Black Wall Tyres
Waymaster 'Thirty' Black Wall Tyres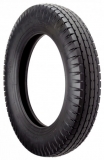 Click Image to Enlarge
Prices vary depending on size
Waymaster '30' Black Wall Classic Tyres
Scroll down for technical information.
WAYMASTER TYRES
WAYMASTER 30 TYRES | WAYMASTER THIRTY TYRES

VINTAGE TYRES, CLASSIC TYRES AND ANTIQUE TYRES
What is a 'Waymaster 30' tyre?
The Waymaster '30' (also known as the Waymaster 'Thirty') is the ideal choice for cars from the 1920s and 1930s. Its design harks back to the advances made between the two World Wars as tyre designers overcame the inherent instability in the previous block-type patterns leading to improvements in road holding and handling. Alongside these characteristics the Waymaster Thirty tyres, with their buttressed shoulders and toothed tread will enhance the appearance of any car from the period.
> Want to see other variations? Feel free to view our Waymaster tyre range here <
Technical Specifications

Overall
Diameter
Width
Construction
Rim Size
Ply Rating
Load Index










711 mm

137 mm

Crossply
17 inches

79P
Tube Type [TT]
Tube Less [TL]
Weight Capacity

Speed Rating

E Marked
Road Legal









T T
437 kg
93 mph

yes
yes