PHONE LINE UPDATE: Some customers are experiencing issues when calling us. If this is the case, please click/tap here to email us and we'll be in touch with you as soon as possible.
You are here:
Tyres >
BKT Agrimax RT765 Farm Tractive Tyres
BKT Agrimax RT765 Farm Tractive Tyres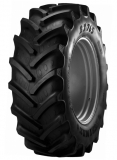 Click Image to Enlarge
Prices vary depending on size
BKT Agrimax RT765 (70 Series) Radial Tractor Tyres
Scroll down for technical information.
BKT AGRIMAX RT765 TYRE | BKT RT765 AGRIMAX TYRE
BKT TYRES | FARM TYRES
|

AGRICULTURAL TYRES

|

RADIAL TYRES

Why should I choose the BKT Agrimax RT-765 tyre?

AGRIMAX RT 765, a BKT 70 series tyre, is suitable for cutting-edge tractors for several heavy-duty applications such as soil tillage, field and road transport, vineyard harvesting, and spraying. A wide contact patch ensures the best possible traction on all surfaces at any time.
The BKT Agrimax RT765 is an excellent all round tyre with the most advanced technology concentrated in the footprint area. The 70 Series tyres's traction capabilities are combined with surprisingly limited soil compactions, this is achieved by the design of the lugs, which retain their efficiency, thanks to regular wear characteristics.
Technical Specifications

Overall
Diameter
Width
Radial [R]
Crossply [X]
Rim Size
Ply Rating
Load Index










686 mm

197 mm

Radial
16 inch

94A8/B

Tube Type [TT]
Tube Less [TL]
Weight Capacity

Speed Rating
Pressure (Bar/Psi)
E Marked
Road Legal











TL
720 kg

30 km/h

2.40 bar

no

no