You are here:
Carlisle Turf Tamer Tyres
Carlisle Turf Tamer Tyres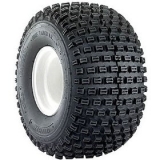 Click Image to Enlarge
Prices vary depending on size
Carlisle Turf Tamer Extra Grip Tyre
Scroll down for technical information.
CARLISLE TURF TAMER TYRES
CARLISLE TURF TAMER 'EXTRA GRIP' LAWN TYRES



RIDE ON MOWER TYRES | LAWN MOWER TYRES | LAWN AND GARDEN TYRES | LAWN TRACTOR TYRES | GARDEN TRACTOR TYRES | TURF TYRES

The Carlisle Turf Tamer has been designed with tough puncture resistant sidewalls for great handling with hollow centre self cleaning cleats. It is a very popular all round lawn care / quad tyre and gives great performance with a long lasting tread life. The self cleaning properties also make it a great choice on lawn and garden equipment where a little extra grip is required.
Specifically for John Deere Gator (High Load)

Technical Specifications

Overall
Diameter
Width
Radial [R]
Crossply [X]
Rim Size
Ply Rating
Load Index










579 mm
234 mm
Crossply
8"
(8.0x8 rim)

4 ply

Tube Type [TT]
Tube Less [TL]
Weight Capacity

Speed Rating
Pressure
(Bar/Psi)
E Marked
Road Legal











TL
375 kg

50 mph
80 km/h

22 psi
1.52 bar
yes
yes