PHONE LINE UPDATE: Some customers are experiencing issues when calling us. If this is the case, please click/tap here to email us and we'll be in touch with you as soon as possible.
You are here:
Tyres >
Diamond Back Classic And Vintage Tyres
Diamond Back Classic And Vintage Tyres

DIAMOND BACK WHITEWALL TYRES
DIAMOND BACK RADIAL WHITEWALL TYRES | DIAMOND BACK CLASSIC TYRES | DIAMOND BACK VINTAGE TYRES
The American Diamond Back company, based in South Carolina provide selected customised white wall detailing for vintage and classic tyres. They begin with taking a new original branded radial tyre, such as Michelin, Firestone, Coker, etc, and permanently bond a special 'white wall' onto the side of it, giving you all the safefy and strength advantages of a modern radial tyre, but with a classic look. The special 'white' compound has been designed so that it doesn't 'yellow' with age. Tyre Choice are vintage tyres UK retail distributors for Diamond Back classic tyres.
Read More..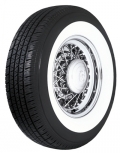 Diamond Back 'Pre-customised' White Wall Tyres

Prices vary depending on size