You are here:
Carlisle Turf Trac Tyres
Carlisle Turf Trac Tyres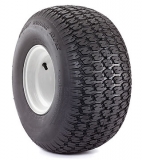 Click Image to Enlarge
Prices vary depending on size
Carlisle Turf Trac (RS) Recreational Service Tyre
Scroll down for technical information.
CARLISLE TURF TRAC RS TYRES
TURF TRAC RECREATIONAL SERVICE (R/S) TYRES



The Carlisle Turf Trac RS has been developed for the recreational market. Its rounded shoulders help reduce damage to your lawn when making sharp turns on your mower, especially when fitted to the steer wheels. Like all Carlisle tyres, they are particularly well made and will give you long lasting wear and reliability.
> Want to see other variations? Feel free to view our Carlisle Turf range here <
Technical Specifications

Overall
Diameter
Width
Radial [R]
Crossply [X]
Rim Size
Ply
Rating









269 mm
101 mm
Crossply
5 inch
(3.00-5 rim)
2 ply
Tube Type [TT]
Tube Less [TL]
Load Index
Speed Rating
Pressure (Bar/Psi)
E Marked
Road Legal











TL
95 kg
10 mph
22 psi
no
no