You are here:
Tyres >
BKT TF9090 3 Rib Tyres
BKT TF9090 3 Rib Tyres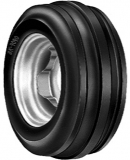 Click Image to Enlarge
Prices vary depending on size
BKT TF-9090 3-Rib Tractor Front Tyres
Scroll down for technical information.
BKT TF-9090 TRACTOR FRONT TYRES
BKT 3 RIB TRACTOR TYRE | BKT TF-9090 TYRE | FRONT TRACTOR TYRE
BKT TF-9090 F-2 TRACTOR TYRE
The BKT TF9090 3-Rib Front Tractor tyre is designed to make steering accurate and comfortable in the field on 2WD tractors. The strong nylon carcass ensures good performance, extra puncture resistance and long lasting life. Engineered for the front axles of tractors in soil tillage operations, it also suited to most agricultural machines requiring effective lateral force steering with minimal impact damage to ground and crops in all weather conditions.
> Want to see other variations? Feel free to view our BKT Tractor Front tyre range here <