PHONE LINE UPDATE: Some customers are experiencing issues when calling us. If this is the case, please click/tap here to email us and we'll be in touch with you as soon as possible.
You are here:
Tyres >
BF Goodrich Classic And Vintage Tyres
BF Goodrich Classic And Vintage Tyres

BF GOODRICH TYRES

B.F. GOODRICH TYRES | CLASSIC TYRES | WHITE WALL TYRES | BLACK WALL TYRES | BF GOODRICH SILVERTOWN | BF GOODRICH CROSSPLY | BF GOODRICH RADIAL | BF GOODRICH WHITE WALL | WHITE AND COLOURED SIDE WALLS

The American manufacturer BF Goodrich have been producing tyres since 1870. This household name is now available in the UK for Classic and Vintage vehicles. The famous BF Goodrich Silvertown tyres are the flagship in selected white wall, blueline, redline and goldline sidewall banding detail.
Remember, if we don't list it, then please contact us for a quote.
Read More..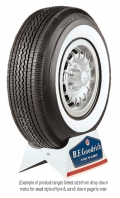 BF Goodrich produce a diverse range of nostalgic crossply tyres with
sidewall detail (excluding lettering) for authentic restoration of classic and vintage vehicles on selected sizes
(Select size to view tyre pattern)

Prices vary depending on size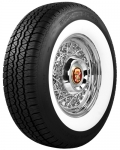 BF Goodrich produce a diverse range of nostalgic radial tyres with
sidewall detail (excluding lettering) for authentic restoration of classic and vintage vehicles on selected sizes
(Select size to view tyre pattern)

Prices vary depending on size