PHONE LINE UPDATE: Some customers are experiencing issues when calling us. If this is the case, please click/tap here to email us and we'll be in touch with you as soon as possible.
You are here:
Tyres >
American Classic Vintage Tyres
American Classic Vintage Tyres

AMERICAN CLASSIC TYRES
WHITEWALL RADIAL TYRES
Made in the USA, American Classic produce a comprehensive range of tyres for collector vehicle restorations in both wide and narrow whitewalls. These tyres are now available in the UK. If the tyre you're looking for isn't listed here, please call us for further assistance.
Read More..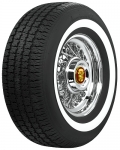 American Classic produce a diverse range of nostalgic tyres with
sidewall detail (excluding lettering) for authentic restoration of classic and vintage vehicles on selected sizes

Prices vary depending on size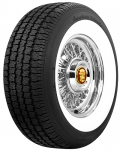 American Classic produce a diverse range of nostalgic tyres with
sidewall detail (excluding lettering) for authentic restoration of classic and vintage vehicles on selected size

Prices vary depending on size