COVID-19 UPDATE
We are open as normal during the November lockdown, however please be aware that some deliveries may take a little longer due to the increased capacity of consignments in our courier's distribution networks.
You are here:
Tyres >
Farm Trailer Rib Tyres
Farm Trailer Rib Tyres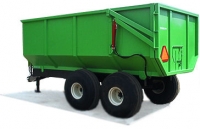 FARM TRAILER TYRES

| AGRICULTURAL TRAILER TYRES

|

FLOTATION TYRES

TIPPING TRAILER
|

DUMP TRAILER

|

FLATBED TRAILER

|

UTILITY TRAILER

|

ARTIC TRAILER

|

IFOR WILLIAMS TRAILER

Why choose Tyre Choice for Farm Trailer Tyres?

Tyre Choice carry large stocks of tyres for Agri and Farm trailers. Feel free to view our range of our non-agressive treads which are suitable for farm trailers and flotation applications. If you can't see what you need, don't forget, you can always email us or call on 0844 879 7085 for free expert advise.
Read More..

Farm Trailer Tyres manufactured by BKT

Farm Implement Tyres by Trelleborg Wheel Systems