You are here:
Tyres >
White Wall Tyres
White Wall Tyres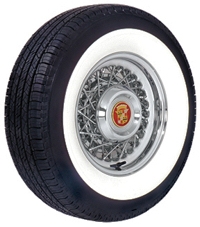 WHITE WALL TYRES
CLASSIC WHITE WALL TYRES | WHITEWALL TYRES | MODERN WHITE WALL TYRES | RAISED WHITE LETTERING TYRES
The white wall tyres trend started in the 1920s when manufacturers developed tyres with added appeal. White wall tyres complement any classic or contemporary car, adding a distinctive and authentic aesthetic look.

Our modern white wall tyres in both Crossply and Radial include a comprehensive range of tyres from top quality brands such as American Classic, Galaxy, B.F Goodrich, Firestone and many more.

Our White Wall Tyres are:
• Attractive and durable
• Long lasting
• Authentic
• Produced with Classic Styling incorporating the latest Modern technology

With a comprehensive range of tyres in the UK, we can provide the perfect tyres to suit your specifications. Please contact us for further assistance.
Read More..