You are here:
Tyres >
White Wall Tyres
White Wall Tyres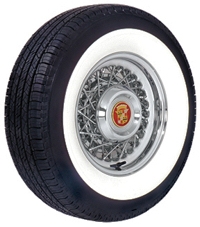 White Wall Tyres
The white wall tyres trend started in the 1920s. With manufacturers developing tyres with added appeal, white wall tyres complement any classic or contemporary car, adding a distinctive and authentic aesthetic.
Tyre Choice supplies a comprehensive range of white wall tyres from top quality brands such as American Classic, Continental, B.F Goodrich, Firestone and many more.

Our White Wall Tyres are:

• Attractive and durable
• Long lasting
• Flexible

With a comprehensive range of tyres in the UK, we can provide the perfect tyres to suit your specifications. Please call us on 0844 879 7085 for further assistance.
Read More..