You are here:
Tyres >
Coker Beck DBL Classic White Wall Motorbike Tyres
Coker Beck DBL Classic White Wall Motorbike Tyres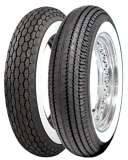 Click Image to Enlarge
Prices vary depending on size
Coker Beck DBL Classic White Wall Motorbike Tyres
Scroll down for technical information.
COKER BECK WHITE WALL MOTORCYCLE TYRES
COKER DBL TYRES | BECK MOTORCYCLE TYRES | COKER WHITEWALL MOTORBIKE TYRES | VINTAGE MOTORCYCLES TYRES



Coker 'Beck' whitewall motorcycle tyres feature classic tread designs and great looking true whitewall construction. The tyres are also popular for custom builds where whitewalls are the desired look on both sides of the tyre. Coker Motorcycle tyres are available in many popular sizes in authentic tread designs.
Tyre Choice are Coker vintage motorcycle UK distributors and can deliver quickly direct to your doorstep.
If the size you are looking for is not listed here, please contact us with your enquiry where we will be happy to help.

> Want to see other variations? Feel free to view our Coker Whitewall tyre range here <
Technical Specifications

Overall
Diameter
Width
White Wall
Width
Construction
Rim Size
Ply Rating
Load Index












26.25 inches

5.00 inches

2 inches

Crossply
16 inches

4 ply

Tube Type [TT]
Tube Less [TL]
Weight Capacity

Pressure
(Bar/Psi)
E Marked
Road Legal









T T

-

-

yes
yes