You are here:
Tyres >
Firestone Black Wall Tyres
Firestone Black Wall Tyres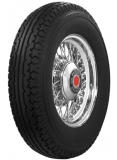 Click Image to Enlarge
Prices vary depending on size
Firestone's Classic Black Wall Vintage Tyres
(Select size to view pattern)
Scroll down for technical information.
FIRESTONE CLASSIC TYRES
FIRESTONE TYRES | FIRESTONE BLACK WALL TYRES | FIRESTONE CLASSIC TYRES
VINTAGE TYRES, CLASSIC TYRES AND AMERICAN TYRES
Firestone Tires have been producing tyres since 1900. This American brand is a world leader and a trusted name for tyre buyers and tyre suppliers alike. Still producing tyres for classic and vintage vehicles, their quality and design has never faded with age. If you can't see the size you're looking for, please contact us for a quote.

> Want to see other variations? Feel free to view our Firestone Black Wall tyre range here <
(Scroll down ▼ to view tyre pattern)
Technical Specifications

Overall
Diameter
Width
Construction
Rim Size
Ply Rating
Load Index










23.1 inches

Tyre: 5.5 inches
Tread: 3.8 inches

Crossply
13 inches

4 ply

Tube Type [TT]
Tube Less [TL]
Weight Capacity

Pressure (Bar/Psi)
E Marked
Road Legal









TL

350 kg / 770 lbs

32 psi

yes
yes