PHONE LINE UPDATE: Some customers are experiencing issues when calling us. If this is the case, please click/tap here to email us and we'll be in touch with you as soon as possible.
You are here:
Tyres >
Duro DI-K968 ATV Tyres
Duro DI-K968 ATV Tyres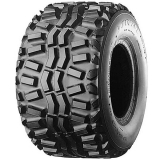 Click Image to Enlarge
Prices vary depending on size
Duro DI-K968 Kawasaki Utility Vehicle and SXS 'side by side' tyres
Scroll down for technical information.
DURO DI-K968 TYRES | DURO DI-K968M TYRES

KAWASAKI MULE | KAWASAKI UTILITY VEHICLE | KAWASAKI SIDE BY SIDE VEHICLE



The Duro Di-K968 is a all purpose tyre, which can fit both front and rear. Designed to suit the weight, horsepower and handling characteristics of the Kawasaki mule, the tyre can be inflated to a maximum operating pressure of 24.7 psi.
Replaces the Dunlop K869 tyre
Rear tyre designed for most of the large Kawasaki 2WD and 4WD Utility ATV and UTVs
Unique combination of vertical and horizontal lugs provide best possible traction
Centre channel lug with modified shoulder blocks for sure footed traction on all wheels
Strong 4-ply rating
OEM and general-replacement tyres designed to maximize the maneuverability and
load capacity of your UTV and Side-by-Side

> Want to see other variations? Feel free to view our Duro ATV tyre range here <
Technical Specifications
Duro 22x11.00-10 Di-968 fits front of a Kawasaki Mule 2x4 (2004 models and earlier)
Overall
Diameter
Width
Radial [R]
Crossply [X]
Rim Size
Ply
Rating









22.6"
10.08"
Crossply
10"
4 Ply
Tube Type [TT]
Tube Less [TL]
Load Index
Speed Rating
Pressure (Bar/Psi)
E Marked
Road Legal











TL
24.7 Psi
No
No