You are here:
Tyres >
Excelsior White Wall Tyres
Excelsior White Wall Tyres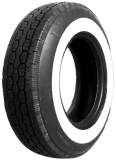 Click Image to Enlarge
Prices vary depending on size
Excelsior White Wall Tyres have the distinctive clean classic look that enhances the presence and grace of the vintage vehicle. With a faithful and accurate reproduction of the original tyre, Excelsior tyres are made with care and attention to detail, added with a little modern technology to add strength and durability to the perfect companion on the road.
(Select size to view pattern)
Scroll down for technical information.
Technical Specifications

Overall
Diameter
Width
Construction
Rim Size
Ply Rating
Load Index










17.75 inches

Tyre: 4 inches
Tread: 3 inches

Crossply
10 inches

4 ply
68 L
Tube Type [TT]
Tube Less [TL]
Weight Capacity

Speed Rating

Road Legal







T T
315 kg / 695 lbs
75 mph

yes