You are here:
Carlisle Multi Trac Tyres
Carlisle Multi Trac Tyres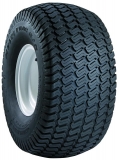 Click Image to Enlarge
Prices vary depending on size
Carlisle Multi Trac (CS) Commercial Service Tyre
Some sizes in range are now called Turf Master
Scroll down for technical information.
CARLISLE MULTI TRAC TYRES
CARLISLE MULTI TRAC COMMERCIAL SERVICE (CS) TYRES



The Carlisle Multi Trac turf tyre is the first choice for most of the leading ride on mower manufacturers. This tyre will give you exceptional long lasting wear and reliability because of sturdy construction and deep tread, this also reduces punctures to an absolute minimum and is one of the best tyres on the market. If you are looking reliability and quality then it's the ideal tyre for you.
> Want to see other variations? Feel free to view our Carlisle Turf range here <
Technical Specifications

Overall
Diameter
Width
Radial [R]
Crossply [X]
Rim Size
Ply
Rating









14.4 inches
6.0 inches
Crossply
8 inches

4 ply

Tube Type [TT]
Tube Less [TL]
Load Index
Speed Rating
Pressure (Bar/Psi)
E Marked
Road Legal











TL
565 lbs

10 mph

30 psi

no
no