Flaps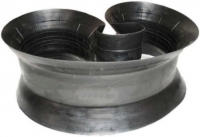 FLAPS

|

GAITERS

|

TYRE LINERS

|

THORNGUARD
RUBBER FLAPS
|

SPLIT RIM PROTECTION

|

RUBBER TYRE LINERS

|

PUNCTURE RESISTANCE FLAPS

|

INDUSTRIAL FLAPS


FLAPS FOR 8 INCH RIMS UP TO TO 16 INCH RIMS | FLAPS TO FIT 17 INCH RIMS UP TO 25 INCH RIMS

What are flaps and why choose flaps from Tyre Choice?

Tyre Choice flaps are made from hard, flexible butyl rubber. Our flaps are tough, hardwearing and long lasting. Designed to protect the inner tube from breaching inside the tyre carcass from rim debris, such as rust or sharp objects, these flaps will keep your tyre inflated whilst getting the job done.
Read More..

Selection of flaps to fit inside 8" to 16" tyres with split rims for innertube protection

Prices vary depending on size

Range of flaps to fit 17" to 25" tyres protecting innertubes against a split rim

Prices vary depending on size