COVID-19 UPDATE
We are operating as normal during the pandemic. Please be aware that some deliveries may take a little longer due to the increased volume of consignments in our courier's distribution networks.
You are here:
Tyres >
Farm Grassland Tyres
Farm Grassland Tyres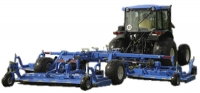 BKT TYRES | BKT GRASSLAND TYRES | BKT TURF TYRES | BKT DIAMOND TYRES
TRACTOR TYRES | SPORTS GROUND TYRES | CRICKET PITCH TYRES | LAWNCARE TYRES
BKT Grassland tyres are designed to be kind to both grass and turf terrain. Popular with professional groundskeepers and sport management areas, these tyres will glide over hallowed turf with minimal impact to those precious greens.
Read More..

Grassland tyres manufactured by BKT