You are here:
Tyres >
Coker Classic White Wall Radial Tyres
Coker Classic White Wall Radial Tyres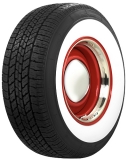 Click Image to Enlarge
Prices vary depending on size
Coker Classic White Wall Radial Tyres
Scroll down for technical information.
COKER CLASSIC WHITEWALL RADIAL TYRES
COKER RADIAL WHITE WALL TYRES
Classicaly styled whitewall tyre with all the advantages of a modern radial constructed tyre.
Benefits of the Coker Classic Radial include:
Made in the U.S.A.
World's first modern radial constructed wide whitewall
Improved ride and handling over origianal bias crossply
All season tread
NOTE: Do not mix crossply and radial tyres
Remember, if the size you're looking for is not listed, please contact us to enquire.

> Want to see other variations? Feel free to view our Coker Classic Whitewall tyre range here <
(Scroll down ▼ to view tyre pattern)
Technical Specifications

Overall
Diameter
Width
White Wall
Width
Construction
Rim Size
Ply Rating
Load Index












25.51 inches
Tyre: 7.96 inches
Tread: 5.48 inches
2¼ inches
Radial
14 inches

92P
Tube Type [TT]
Tube Less [TL]
Weight Capacity

Speed Rating

Pressure
(Bar/Psi)
E Marked
Road Legal











TL
630 kg
1,400 lbs
93 mph
150 km/h
2.4 bar
35 psi
yes
yes