You are here:
Tyres >
Cheng Shin C131 Grey Block Infilled Tyre
Cheng Shin C131 Grey Block Infilled Tyre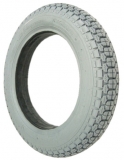 Click Image to Enlarge
Prices vary depending on size
Please give make and model of scooter when ordering
Designed for two piece rim
Scroll down for technical information.
CHENG SHIN C131 SOLID TYRES | CST C131 SOLID TYRES
CHENG SHIN GREY C131 SOLID MOBILITY TYRES | CST C131 SOLID MOBILITY TYRES
SOLID MOBILITY SCOOTER TYRES | SOLID WHEELCHAIR TYRES | SOLID NON MARKING TYRES
Why choose Cheng Shin Tyres?

The Cheng Shin Tyre (known as CST Tyre) in the C131 block tread is a great tyre for mobility scooters and wheelchairs. With its non marking properties, this tyre gives superb grip indoors and outdoors and is durable and comfortable to ride on. Tyre Choice have a good range of all tyres for mobility equipment.
What are the benefits of a solid tyre?

Cheng Shin Infilled tyres are the perfect solution for puncture prevention.
No more worries about your tyre going over nails glass and other sharp objects, because the tyre is infilled with puncture proof robust compound, which replaces the need for an inner tube.
This light weight puncture proof compound gives a significantly more comfortable ride compared to some hard foam filled tyres
No need to check tyre pressures ever again
Aids towards a longer tyre lifespan
Minimises costly tyre wear
> Want to see other variations? Feel free to view our Cheng Shin and CST Grey tyre range here <
Technical Specifications

Overall
Diameter
Width
Radial [R]
Crossply [X]
Rim Size
Ply Rating
Load Index










16 inch

3 inch

Crossply
10 inch

4 ply

Tube Type [TT]
Tube Less [TL]
Weight Capacity

Speed Rating
Pressure (Bar/Psi)
E Marked
Road Legal











TT
68 kg

8 mph

Infilled

no

no