PHONE LINE UPDATE: Some customers are experiencing issues when calling us. If this is the case, please click/tap here to email us and we'll be in touch with you as soon as possible.
You are here:
Tyres >
Excelsior Vintage And Classic Tyres
Excelsior Vintage And Classic Tyres

EXCELSIOR VINTAGE TYRES | EXCELSIOR CLASSIC TYRES
EXCELSIOR WHITEWALL TYRES | EXCELSIOR CROSS PLY TYRES
This American manufacturer have been producing good quality budget priced tyres for the vintage and classic vehicle market since 1974. Now available in the UK.
Read More..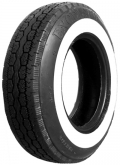 Excelsior White Wall Tyres have the distinctive clean classic look that enhances the presence and grace of the vintage vehicle. With a faithful and accurate reproduction of the original tyre, Excelsior tyres are made with care and attention to detail, added with a little modern technology to add strength and durability to the perfect companion on the road.
(Select size to view pattern)

Prices vary depending on size