You are here:
Valve Collars
Valve Collars
Click Image to Enlarge
Prices vary depending on size
Valve spacer for TR13 to TR15 conversion
Scroll down for technical information.
VALVE SPACER | VALVE ADAPTER

VALVE COLLAR | VALVE FERRULE | VALVE GROMMET | VALVE SLEEVE

TR13 TO TR15 VALVE CONVERTER | TYRE VALVE SPACER | RIM HOLE SPACER | RIM HOLE VALVE ADAPTER | VALVE BUSHING ADAPTER
What is a Valve Spacer?

This is a plastic collar is designed to simply slip over a standard TR13 straight rubber surrounded valve to convert it to the width of a TR15 valve by increasing the base and thickness of the valve outer by 2mm.
What are Valve Spacers commomly used for?

Valve collars are often used for fitting innertube valves snuggly into the receiving valve hole on the rim, typically for 'Range Rover to Land Rover' fitments (and visa-versa).
How do you fit a Valve Spacer?
Remove the tyre from the rim.
If you are installing a brand new valve, go to step 3. If you are using existing valve, once you have full access inside the rim, remove the entire valve from the rim.
Slip the valve adapter over the removed valve up to the tapered end
Reinstall the valve with the valve adapter on it back onto the rim
Fit tyre back onto wheel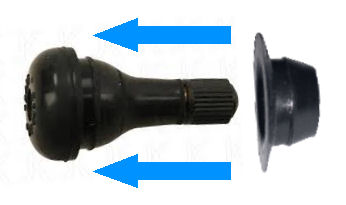 Collar Dimensions: