PHONE LINE UPDATE: Some customers are experiencing issues when calling us. If this is the case, please click/tap here to email us and we'll be in touch with you as soon as possible.
You are here:
Tyres >
Skidsteer Tyres
Skidsteer Tyres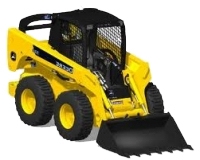 Tyre N Tube choice have a wide range of tyres sizes for Skid steer loaders, all top quality brands including Solideal and BKT at very competitive prices.
The skidsteer range covers standard tyre fitment for general use or if you need the harder working heavy duty tyres with widewall giving you a wide profile and bigger footprint then check out our range.
Read More..

Excellent quality skidsteer tyres made by BKT


Range of Skidsteer Tyres made by Solideal