You are here:
Tyres >
Duro HF207 Multi Ribbed Tyres
Duro HF207 Multi Ribbed Tyres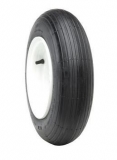 Click Image to Enlarge
Prices vary depending on size
Duro HF207 Multi Ribbed Tyres
Scroll down for technical information.
DURO HF-207 MULTI RIB TYRES
SMALL IMPLEMENT TYRES | SACK TRUCKS | HAND CARTS | GARDEN TRAILERS | SMALL TYRES
MULTI RIBBED TYRES
Duro HF-207 Multi Ribbed Implement tyres are very popular and versitile, with lots of uses. Suitable for wheelbarrows, sack trucks and hand carts as well as small garden trailers, the Duro HF207 has a ribbed pattern which gives it a very low rolling resistance, especially over grass and tarmac and most surfaces. This Duro multi ribbed tyre is one of our most popular replacement tyres, because of its reliability and sensible price.
> Want to see other variations? Feel free to view our small tyre range here <
Technical Specifications

Overall
Diameter
Width
Sidewall
Radial [R]
Crossply [X]
Rim Size
Ply
Rating











7.7 Inches
2 Inches
1.9 Inches
Crossply
3.75 Inches
2 Ply
Tube Type [TT]
Tube Less [TL]
Load Index
Speed Rating
Pressure (Bar/Psi)
E Marked
Road Legal











T T
113 Kg
10 mph
36 psi / 2.5 bar
no
no