You are here:
Bridgestone Battlax BT-016 Rear Tyres
Bridgestone Battlax BT-016 Rear Tyres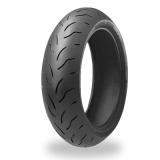 Click Image to Enlarge
No products found in this category.
Bridgestone battlax BT016 motorcycle tyres
Maximum performance of all sport bikes
New multi-compound technology.
Grip performance in every aspect - braking, maximum side grip in cornering, and strong traction at the exit of a corner.
Bridgestone Battlax BT016 Front tire features dual compound (3LC) to provide grip in all riding modes. The center compound offers linear handling while the shoulder compound secures high grip and solid contact feeling.
Bridgestobe Battlax BT016 Rear tire features a new triple compound (5LC) and the center compound offers good stability, the shoulder compound transfers power to the road with strong traction while the edge compound offers strong side grip and solid contact feeling at extreme lean angles. L shaped grooves enhance shock absorption and rear-end steering.
The steel MS-BELT construction applied to the front and rear tires absorbs sudden impact from bumps and offers high stability and tremendous line-holding in corners.