You are here:
Bridgestone Battlax BT-021 Front Tyres
Bridgestone Battlax BT-021 Front Tyres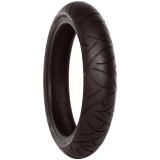 Click Image to Enlarge
No products found in this category.
Bridgestone BT021 is the first to use MSB (Mono Spiral Belt) on both front and rear tyres. With optimal stiffness provided by the HTSPC (High Tensile Super Penetrated Cord), this MSB construction raises stability band shock absorption to the highest levels.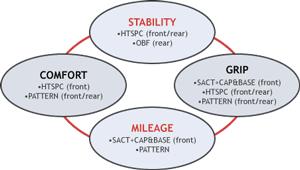 With Bridgestone's BT021 new rear tyre SACT (Straight and Cornering Technology) construction with Cap & Base technology and dual-compound tread, provides plenty of cornering control from the high grip shoulder compound.
The Bridgestone BT021 has a firmer centreline and base layer produce the necessary tread stiffness for improved traction and mileage.
Stability and cushioning are enhanced by a newly developed outside bead filler (OBF) in the soft two-ply construction.
The Bridgestone BT021 high grip shoulder compound provides confident cornering control, while firmer centre tread adds durability and higher mileage.
Bridgestone Battlax BT021 is designed to provide the range of heavier motorbikes from 600cc to 1200cc, with the highest possible levels of comfort at speed and an exciting ride.