You are here:
Bridgestone Battlax BT-023 Rear Tyres
Bridgestone Battlax BT-023 Rear Tyres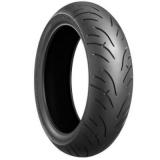 Click Image to Enlarge
No products found in this category.
Consistent sport-touring performance

Bridgestone aims to strengthen its position in the sport-touring sector of the replacement motorcycle tyre market with the launch of the Battlax BT-023 in February 2010. The advanced new tyre significantly upgrades the performance of the
BT-021 it replaces, both in the key touring areas of mileage and wet performance, as well as by meeting the handling expectations of the most demanding sport riders.

Mileage - wet performance

The BT-023 tyre provides superb wear life and wet cornering thanks to the re-designed angle-groove pattern and Silica Rich Ex compound with "RC polymer".

Comfort and stability

Both the front and rear tyres of the BT-023 are constructed with Bridgestone's proven Mono Spiral Belt (MSB) technology, providing top-level grip, shock absorption and straight-line stability at speed.
With a 3 Layer Compound (3LC) on the rear tyre, the shoulder compound gives reassuring grip through corners while the centre compound with its wide contact area adds stability and smoothness when cruising. The result is a confident ride, with rich feedback and a secure contact feel in all conditions.