You are here:
Bridgestone Battlax BT-45 Front Tyres
Bridgestone Battlax BT-45 Front Tyres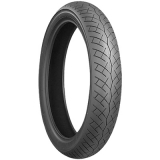 Click Image to Enlarge
No products found in this category.
The BATTLAX BT-45 is a touring type tyre offered in both H and V rated speed symbols. It gives an all-round street performance, with the emphasis on riding comfort, long mileage, wet performance, all designed using the latest tyre developing technologies of Bridgestone. With a comprehensive range of tyre sizes, the new improved BATTLAX BT-45 is now the preferrred replacement of the previous BATTLAX BT-35 and BT-17V patterns.
---
BATTLAX BT-45 FEATURES:
Compound
Battlax BT-45 rear contains Dual Tread Compound (DTC). The center compound secures long mileage and durability, while the tread edge compound secures grip and traction in corners. Also, Battlax BT-45 compound contains Silica for additional wet performance.
Pattern
The newly developed zigzag center grooves promise high speed stability. The smaller, directional grooves in front tire effectively remove water for wet performance.
Profile
Designed with CTDM, the unique sidewall profiles of Battlax BT-45 give high speed stability and riding comfort by cushion effect The large crown radius also contributes to the stability in high speed touring.