You are here:
Bridgestone Battlax S20 Front Tyres
Bridgestone Battlax S20 Front Tyres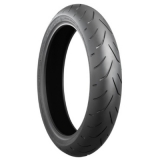 Click Image to Enlarge
No products found in this category.
Super-fast performance
The latest MotoGP construction and compound technologies allow you to push the limits of your bike's performance even further.
Superior handling
The latest high-performance pattern developed for the MotoGP circuit offers precision handling and performance in all conditions, from the highway to the hills.
Outstanding grip
Bridgestone's patented multi-compound technology guarantees superior cornering grip and braking/acceleration response in a wide range of conditions.
Excellent wear resistance
Advanced materials engineering and construction ensure the tyre straddles the highest standards for both performance and durability.
Reliable wet performance
Conquer the road, even in wet-weather conditions thanks to the Battlax Hypersport S20's optimised contact patch and advanced tread pattern.