You are here:
Bridgestone Battlax T30 Front Tyres
Bridgestone Battlax T30 Front Tyres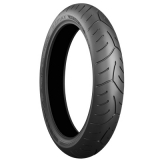 Click Image to Enlarge
No products found in this category.
True riding pleasure
The Battlax T30 is the new reference for relaxed, touring performance, letting you rediscover the joy of riding.
Ultimate confidence
Quick response, tight handling and support for high lean angles make it even easier to hold your line on both wet and dry surfaces.
Balanced performance
High-speed cruising, sports-like grip and precision steering response: all the right ingredients for genuine, consistent performance.
Ultimate comfort
Outstanding stability, very good bump absorption and low-noise cruise performance combine for the ultimate riding experience.
Variety of specs
A variety of options covering all modern naked and sport touring bikes.