PHONE LINE UPDATE: Some customers are experiencing issues when calling us. If this is the case, please click/tap here to email us and we'll be in touch with you as soon as possible.
Challenger Gel Batteries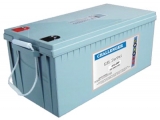 Click Image to Enlarge
No products found in this category.
Challenger's "Tip Up" safe Gel Batteries are designed for use where the Mobility Scooters have to cope with inclines or undulations which may cause problems to normal batteries. Because the liquid is not 'fluid' but instead in a more static 'gel' like state, this provides a uniform output where liquid batteries ofter fail.
Features include:
Extreme charging/re-charging
Excellent recovery after deep discharge
High purity lead inside case
Patented Gel electrolite for better stability
Increased life span
Consistant uniform output right up to discharge
Lower self discharge <2.5% per month
Up to 12 years life span
Low internal resistance
Compact design