You are here:
Dunlop Qualifier Sports Front
Dunlop Qualifier Sports Front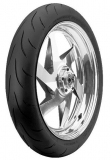 Click Image to Enlarge
No products found in this category.
Advanced belt design and Jointless Band (JLB) rear-tire construction of the Dunlop qualifier reduce unsprung weight for quicker acceleration and enhanced steering characteristics
The Dunlop Qualifier Tyre offers true racetrack-level grip and performance for the street.
The Dunlop qualifier Rear-tire compound blends three race-developed polymers to maximize grip and warm up quickly in the wet or the dry.
Race-derived front-tire profile promotes quicker turn-in and lighter steering while also contributing to a larger footprint at maximum lean angles.