PHONE LINE UPDATE: Some customers are experiencing issues when calling us. If this is the case, please click/tap here to email us and we'll be in touch with you as soon as possible.
You are here:
Haze AGM Batteries
Haze AGM Batteries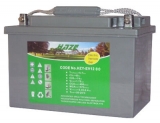 Click Image to Enlarge
Prices vary depending on size
Haze Absorbed Glass Mat (AGM) Batteries
Scroll down for technical information.
(Correct picture of battery as shown below)
Haze AGM Batteries are completely maintenance free. Features include:
Construction eliminates the need for watering
Increased durability and deep cycle ability for heavy demand applications
Fully tank formated plates
Low imputity electrolyte
Spill proof / leak proof
Walve regulated (max internal pressure 2.5 psi)
Multi-position usage
ABS case and cover
Low self discharge
FAA and IATA approved as non-hazardous
Suitable for:
| | | | | | |
| --- | --- | --- | --- | --- | --- |
| | Power Wheelchairs / Mobility Scooters | | Residential usage | | Communications |
| | Cathodic Protection | | Remote Monitoring | | Refrigeration |
| | Lighting / Solar | | Aids to navigation | | Wind generation |
| | Recreational Vehicles / Motorhomes | | Water pumping | | Golf carts |
Technical Specifications
| | | | | |
| --- | --- | --- | --- | --- |
| Volts | Amps | Depth | Width | Height |
| | | | | |
| 12V | 10Ah | 151 mm | 65 mm | 114 mm |