PHONE LINE UPDATE: Some customers are experiencing issues when calling us. If this is the case, please click/tap here to email us and we'll be in touch with you as soon as possible.
You are here:
MK AGM Batteries
MK AGM Batteries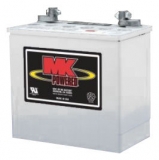 Click Image to Enlarge
Prices vary depending on size
MK Absorbed Glass Mat (AGM) Batteries
Scroll down for technical information.
(Correct image of battery is shown below)
MK Absorbed Glass Mat (AGM) batteries are ideally suited for:
| | | | | | |
| --- | --- | --- | --- | --- | --- |
| | Power Wheelchairs / Mobility Scooters | | Residential usage | | Communications |
| | Cathodic Protection | | Remote Monitoring | | Refrigeration |
| | Lighting / Solar | | Aids to navigation | | Wind generation |
| | Recreational Vehicles / Motorhomes | | Water pumping | | Golf carts |
Benefits of a MK AGM battery are:
Completely absorbs electrolyte for spill-proof design
Ultra premium sealing valve prevents capacity loss and controls pressure
Fortified posts, straps and welds that resist vibration damage and maximise the current transer
High density oxide provides maximum power-per-pound "high cycling" service
Less than 2% per month stand loss means that little deteriation during transport and storage
250 quality checks to assure superior performance and long life
Technical Specifications
| | | | | |
| --- | --- | --- | --- | --- |
| Volts | Amps | Depth | Width | Height |
| | | | | |
| 12V | 10Ah | 151 mm | 65 mm | 114 mm |