You are here:
Maxxis M6011 Classic White Wall Motorcycle Tyres
Maxxis M6011 Classic White Wall Motorcycle Tyres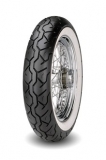 Click Image to Enlarge
No products found in this category.
Designed for classic styles machines, the Maxxis M6011 is available in this Whitewall option.
The maxxis M6001 motorcycle tyre has specially formulated compound and matched front/rear tread pattern provide excellent traction and durability in dry and wet weather. Deep offset tread grooves channel water away from the contact patch. Additional stability is provided by the offset centre rib, which resists tracking over surface rain grooves and steel grated bridges.
"A classic bike deserves a classic tyre."
Unique tread design provides excellent water dispersion
Off-set center rib delivers superb control on rain grooves and steel-grated bridges
Tyre is available in blackwall and wide whitewall models