You are here:
Michelin Pilot Power CT2 Front Motorcycle Tyres
Michelin Pilot Power CT2 Front Motorcycle Tyres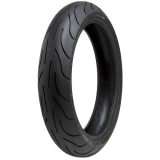 Click Image to Enlarge
No products found in this category.
With 2CT dual-compound technology, Michelin Pilot Power 2CT tyres achieve a maximum lean angle of 51.2° - unprecedented for a street tyre. Name 'tyre of the year' by Motorcycle News, and the winner of comparison tests in Moto Revue (France) and Motorrad (Germany) in 2006, the Michelin Pilot Power 2CT is Michelin's ultimate hypersport tyre. It's the perfect match for today's race ready sportbikes.
Pilot Power 2CT uses MICHELIN's patented Two Compound technology.
2CT is the technology that makes it possible for Michelin to lead its competitors. Michelin Power One, Pilot Power 2CT and Pilot Road 2 all use 2CT technology.

2CT was developed for MotoGP, where it was tested and approved by the best riders in the world!