You are here:
Michelin Pilot Road 2 Rear Motorcycle Tyres
Michelin Pilot Road 2 Rear Motorcycle Tyres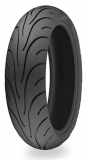 Click Image to Enlarge
No products found in this category.
Michelin Pilot Road² : The best balance tyre
The ideal balance Independent tests confirm the michelin Pilot Road 2 offers better wet grip and longer tread life than any of its competitors. How did Michelin incorporate these two contradictory traits in one tyre? MotoGP-derived 2CT technology makes it possible, using two distinct rubber compounds to achieve what was once thought impossible.

DEKRA tests confirm that MICHELIN PIlot Road provides the best combination of both wet grip and tread life of any comparable tyre**, and Pilot Road 2 also came out on top in 2008 comparison tests in both Moto Revue (France) and Motorrad (Germany)