PHONE LINE UPDATE: Some customers are experiencing issues when calling us. If this is the case, please click/tap here to email us and we'll be in touch with you as soon as possible.
You are here:
Michelin Power Pure Front Motorcycle Tyres
Michelin Power Pure Front Motorcycle Tyres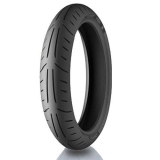 Click Image to Enlarge
Prices vary depending on size
Michelin Power Pure TL Radial Front Motorcycle Tyre
Scroll down for technical information.
What is MICHELIN Light Tire Technology (LTT)?
1 LTT marks a fresh approach to sports tyre design by simultaneously optimising the construction, profile and constituent elements of the tyre. Its mission from the outset was to save weight.
2 LTT employs top-of-the-line materials like aramid fibers, as used in the aerospace industry for example.
3 The thickness of the tread is unchanged!

Unsprung weight
Shaving 2lbs off the weight of a modern sport bike which tips the scales at 400lbs might not seem such a big deal.
Yet it is, since the weight saving is from a part of the bike that is not covered by the suspension: its so-called unsprung weight.
In other words, the lower a bike's unsprung weight, the easier it is to switch from leaning into a right hand turn to leaning into a left hander. And vice-versa.
Gyroscopic forces mean that running a 2lbs lighter tyre is equivalent to saving 6lbs on rims or 8lbs on brake discs.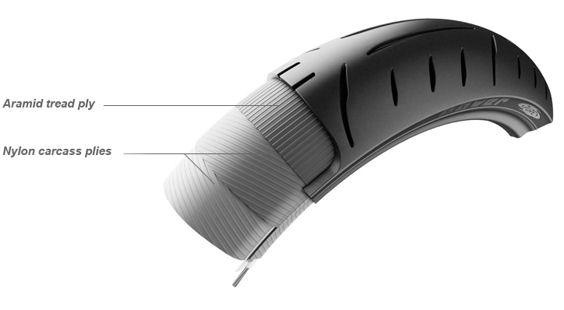 Technical Specifications

Overall
Diameter
Width
Sidewall
Radial [R]
Crossply [X]
Rim Size
Ply Rating
Load Index












575mm

120mm

-
Radial
17 inch

55W

Tube Type [TT]
Tube Less [TL]
Weight Capacity

Speed Rating
Pressure (Bar/Psi)
E Marked
Road Legal











TL
218 kg

270 km/h

32 psi

yes
yes