You are here:
Michelin Power Pure Rear Motorcycle Tyres
Michelin Power Pure Rear Motorcycle Tyres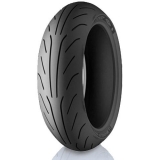 Click Image to Enlarge
No products found in this category.
What is MICHELIN Light Tire Technology (LTT)?
1 LTT marks a fresh approach to sports tyre design by simultaneously optimising the construction, profile and constituent elements of the tyre. Its mission from the outset was to save weight.
2 LTT employs top-of-the-line materials like aramid fibers, as used in the aerospace industry for example.
3 The thickness of the tread is unchanged!

Unsprung weight

Shaving 2lbs off the weight of a modern sport bike which tips the scales at 400lbs might not seem such a big deal.
Yet it is, since the weight saving is from a part of the bike that is not covered by the suspension: its so-called unsprung weight.
In other words, the lower a bike's unsprung weight, the easier it is to switch from leaning into a right hand turn to leaning into a left hander. And vice-versa.
Gyroscopic forces mean that running a 2lbs lighter tyre is equivalent to saving 6lbs on rims or 8lbs on brake discs.