You are here:
Tyres >
Redwing Knobbly Tyres
Redwing Knobbly Tyres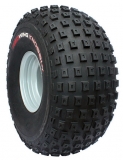 Click Image to Enlarge
Prices vary depending on size
Redwing 'Knobbly' ATV Trailer Tyres
Scroll down for technical information.
REDWING KNOBBLY TYRES
RED

WING ATV TRAILER TYRE |

RED

WING TRAILER TYRE |

RED

WING QUAD BIKE TRAILER TYRE |

RED

WING PUNCTURE RESISTANT TYRE |

RED

WING KNOBBLY RX ARAMID TYRE

REDWING "KNOBBLY'


Why fit a
Red

wing Knobbly Tyre?

The Redwing Knobbly is a "go anywhere' tyre and is fitted onto ATV trailers and Quad Bike trailers for towing behind ATV bikes and is also used for transporting ATV and Quad bikes too. Redwing tyres are a premium grade tyre manufactured to out last the competition. With its anti-slip grip tread, the Redwing Knobbly tyre will dig in when traction is needed most. Its unique self cleaning tread anchors the tyre to the ground and clears mud and debris during rotational motion. The 10mm tread depth improves towing handling and gives a comfortable and quiet experience.
Available in both standard and RX Aramid puncture resistant treads.
Technical Specifications

Overall
Diameter
Width
Radial [R]
Crossply [X]
Rim Size
Ply Rating
Load Index


559 mm
281 mm
Crossply
8 inch
Permitted Rim
7.00x8
4 ply
Tube Type [TT]
Tube Less [TL]
Weight Capacity

Speed Rating
Pressure (Bar/Psi)
E Marked
Road Legal











TL
670 kg
62 mph

22 psi

yes
yes