COVID-19 UPDATE
We are operating as normal during the pandemic. Please be aware that some deliveries may take a little longer due to the increased volume of consignments in our courier's distribution networks.
You are here:
Redwing Traction RX Aramid Tyres
Redwing Traction RX Aramid Tyres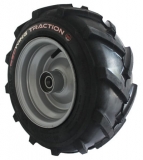 Click Image to Enlarge
Prices vary depending on size
Redwing 'Traction' Puncture Resistant Mower Tyres
Scroll down for technical information.
REDWING RX TRACTION TYRE
RED

WING TRACTION MOWER TYRE | TRACTION

RED

WING TYRES | PUNCTURE RESISTANT TYRE | PUNCTURE PROOF TYRE |

RED

WING ARAMID TYRE

REDWING PUNCTURE RESISTANT "TRACTION" TYRE

What is a

Red

wing Puncture Resistant 'Traction' Tyre?
Redwing Traction tyres are mainly fitted onto pedestrian mowers, however they can be used on ground that needs extra grip without damading the turf, such as on river banks, on hills or undulated terrain. The Redwing Traction RX Aramid has inbuilt puncture resistance in the tread area which provides minimum downtime with maximum durability, slip resistance and high performance.
> Looking for the Standard version of this tyre? Click here for further details <

Technical Specifications

Overall
Diameter
Width
Radial [R]
Crossply [X]
Rim Size
Ply
Rating









406 mm
165 mm
Crossply
8 inches
(5.50x8 Rim)
6 ply
Tube Type [TT]
Tube Less [TL]
Load Index
Speed Rating
Pressure (Bar/Psi)
E Marked
Road Legal











TL
335 Kg
10 mph

38 psi
no
no